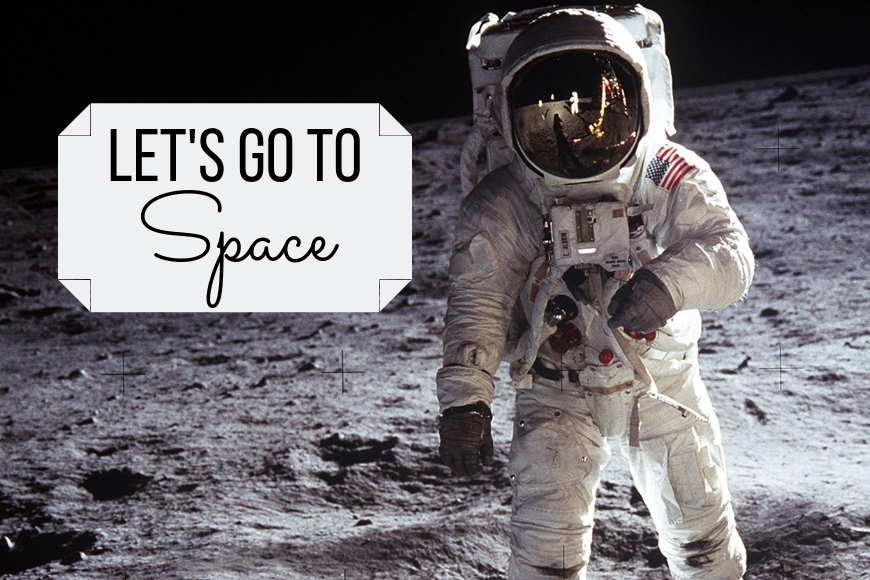 Spending Summer in Outer Space!
There are no shortage of space-themed activities this summer as many celebrate the 50th anniversary of Apollo 11's moon landing. Our local library joined the fun with an out-of-this-world summer reading program. The reading games, prizes and library programs were all spaced-themed! They provided a great spring board for an awesome summer space unit for us. Take a look at what we did and get some quick and easy ideas for your own space unit!
Rocket ship!

Gazing at Jupiter!
Homemade fun is always the best! Grab some toothpicks and marshmallows and you've got instant star constellations. It was an extra bonus to have a black asphalt driveway to act as the perfect night sky background for our creations. Or maybe go for the sidewalk chalk and drawing our galaxy. The kids loved zooming across the galaxy and jumping from planet to planet as I named one to find. Our grand finale activity was truly specially and understandably not one all will be able to do. Thanks to a science-loving aunt, the kiddos were able to see Jupiter's stripes as is was near earth this month. If they could have made it up late enough, they would have been able to get a look at Saturn's rings!
Some other things we enjoyed, but didn't get pictures of, were:
– making up space jokes
– checking out space-themed DVDs and books from the library
– finding the Little Dipper in the night sky
– making space-inspired "culinary creations"
– building rockets, shuttles and spaceships, Oh my!
We received a foam space shuttle and plastic/sponge rocket launcher through our library reading program this summer. The rocket launchers were a hit! We also purchased a rocket kit that used the good ol' stand-by baking soda/vinegar "ignition." Unfortunately, we couldn't get the rocket to shoot more than a few feet into the air. It could have been user error, but I probably wouldn't purchase that kit again. (All above images from amazon.com.)
This was an incredibly simple trip into a space study. However, it is summer and we like to keep things easy and light. Plus, we did do quite a few other space-themed activities during the school year because we focused on Earth and Space science. If you are looking for other ideas, please check out the other blogs participating in the Space Blog Hop by clicking the Inlinkz link below!