Lighten & Brighten Series #6 – Khan Mosaics
This series is dedicated to the mama who may have discovered that she has either planned too much/too little or has not included enough variety/engaging activities in her homeschool lesson plans. Follow along as I show you ways that you can lighten your load without compromising learning while adding in some truly awesome extras!
Now, I hear you. If your load is heavy, why am I suggesting that you ADD something?! Well, I am actually going to offer suggestions for both replacing time-consuming (or otherwise challenging) things and including resources if you are currently left lacking at the end of your homeschool days. Hopefully, you'll find something helpful in this series that will bless you and your family.
This one is for the mamas who need help with teaching art but don't really want bits of paper, paint or adhesive smeared on her kitchen counter. I am certainly that mom. I do love doing projects, but I do not have a dedicated space for ongoing art projects that cannot be completed in one sitting. Enter these gloriously simple and engaging foam sticker mosaics from Djeco.
The suggested ages for this set are 8-14. I do think that the lower end of that range is spot on, however, I do think the other mosaic choices from Timberdoodle may appeal to teens more. As with all my other Timberdoodle reviews, I'll start with "what's inside the box" and go over the intended use. Then, I will end with some helpful ways to lighten and brighten your homeschool days.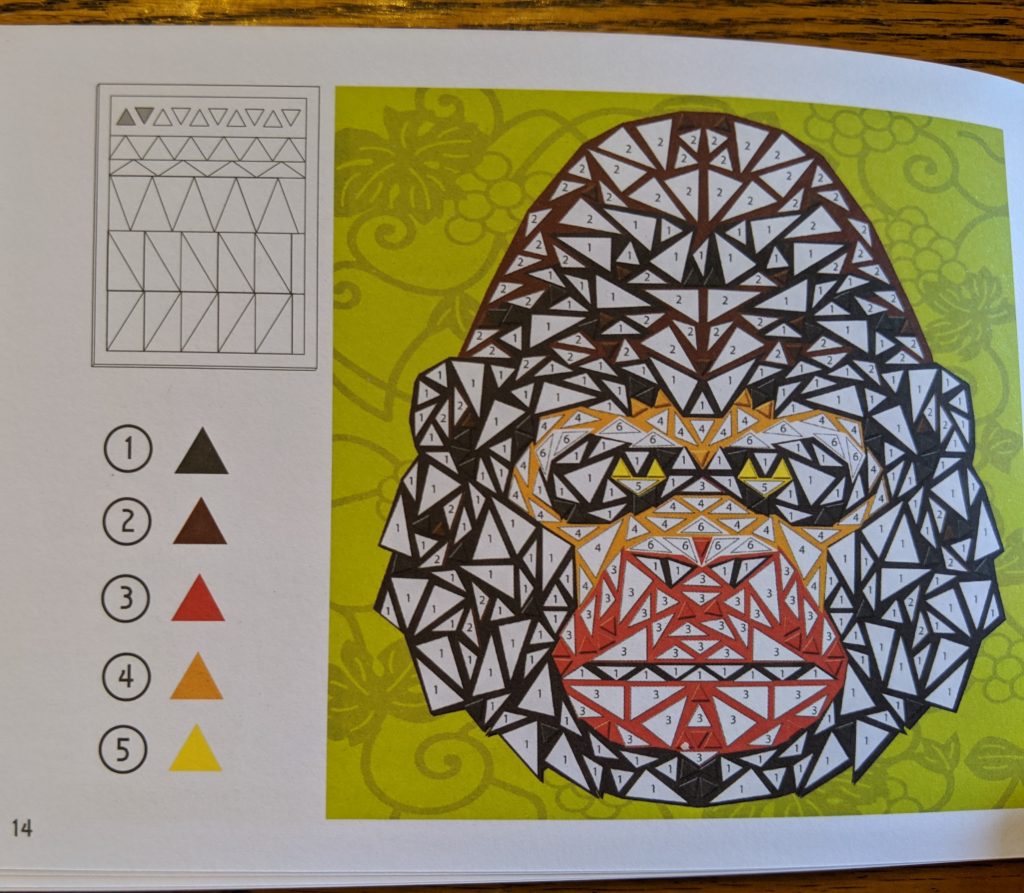 You can see from the picture above that this set comes with two sturdy cardstock templates (a gorilla and a tiger). There are also varying sizes of colored foam triangle sticks that the child will apply to the cardstock using the guide booklet. Here is a close-up of the first instruction page for the gorilla picture. As you can, each color is given a number 1-6. For this first step, only 5 colors are used. The top left diagram shows the child which size sticker he is using in this first step. I will warn you – the triangles in that top row are tiny! If you have a child who is still developing fine motor skill and is easily frustrated, you may want to wait on this set. Your child will place the stickers on the coordinating numbered triangles of like size on the cardstock. There are no written directions for these projects. Younger children may not follow the diagrams/number key intuitively, so be ready to give verbal directions. I only had to explain it once briefly to my son and then he took off from there.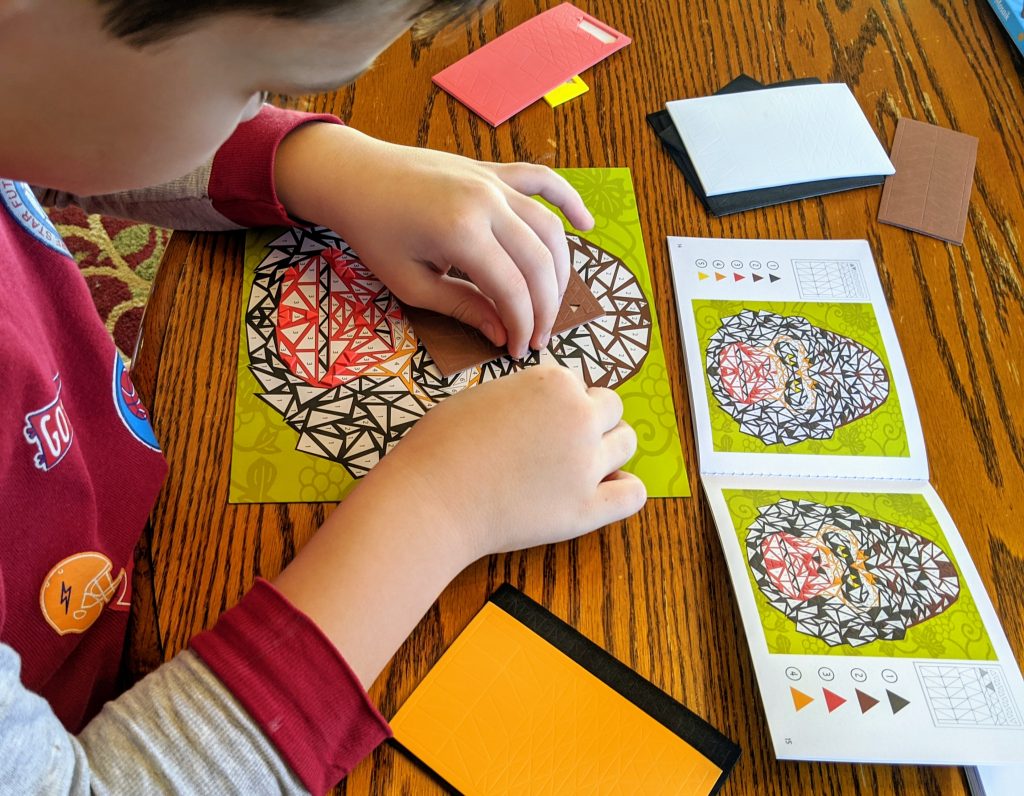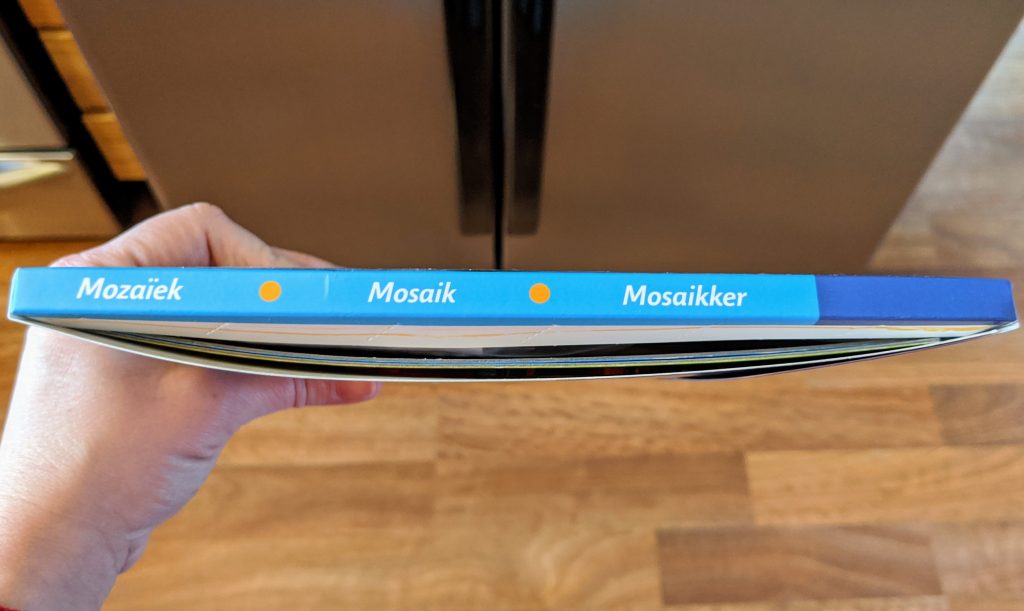 The only minor inconvenience I encountered with the Khan Mosaics set was the packaging. It feels odd to comment on this because I am usually so thrilled with quality of Timberdoodle's selected products. They just find quality stuff! However, these projects definitely require multiple sittings to complete and the box is not going to hold up. In fact, we've already had things slide out of the bottom of the box. Thankfully, I saw it happen and was able to keep the set together. The box simply fell apart. I tried to tape it back together because I like to keep things in the original packaging so I can see what I have. Not a big deal at all – I'll just stick it in a Ziploc bag. However, I know those bags don't stack or stand nicely on a shelf.
So who is this helpful for? Well, the mom at the beginning of the post, for sure. This is a No-Mess Mama's helper. This is yet another way to give your kids the fun without unnecessarily stressing out and gathering endless supplies. I would like to suggest the following additional suggestions for incorporating Kahn Mosaics. Let me know your ideas and thoughts in the comments!
1) Use this in place of a journaling assignment to cheer on those reluctant writers. This activity will help develop necessary fine-motor skills that may still "under construction." Sometimes kiddos just don't have the stamina in their little hands to write for prolonged periods of time. Pull this out as an alternative activity during your study of animals or Africa. Your kiddo will thank you and you'll both enjoy a bit of relief.
2) Let this set do the teaching for you – teaching by doing! You will see that you really don't have to explain the technique of mosaics. The kids will just get it by experience. Art lesson – done!
3) Let your wallet take a break from expensive building sets! This little beauty appeals to those builder types and is only $9.50. The "building" booklet and picture guide format will be familiar to your budding engineer and you won't go broke.
4) Stock these in your school rewards store! Many mamas out there have some type of incentive system. Whether you have an actual store area or not, let your kiddo know he can earn this very affordable prize by reaching agreed-upon goals.
The list could go on, but my kids are ready to go to Nana's house for a visit. I know better than to stand in the way of Nana time….so I'll wrap it up for now and catch you in the comments! Thanks for stopping by and I hope you found this review useful.