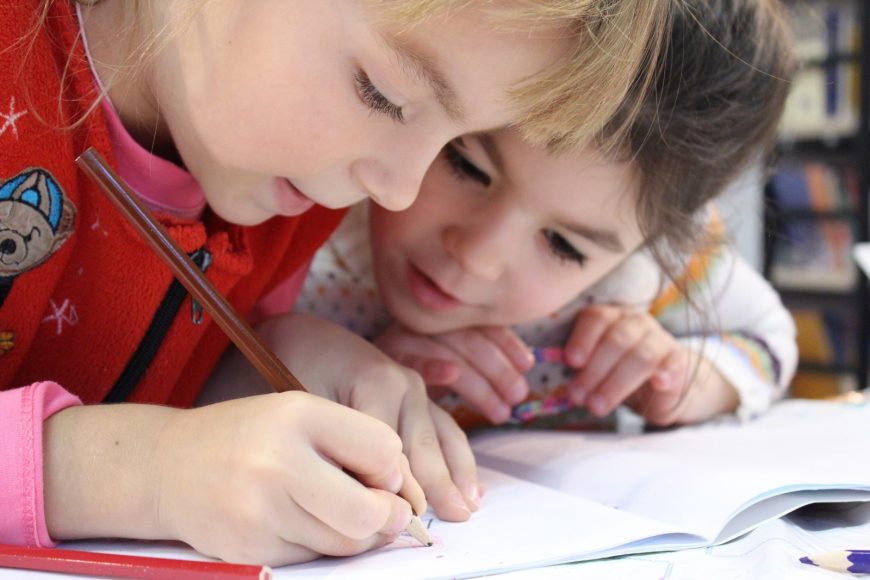 Elementary History as a Family Homeschool Subject
*This post contains affiliate links. All opinions and ideas are my own. I personally purchased this curriculum to use and am now sharing my experience with you in this article.*
Teaching several subjects in a family-style method saves SOOOO much time, homeschool mama! I see more and more families moving to this style of learning together to help with time-management and mama's availability during the homeschool day. History is one of the most common subjects that easily lends itself to family-style learning. Several homeschool curriculum publishers have produced materials to use in a blended-age family group. However, in our home, we have chosen Notgrass History as our go-to place for family-style learning in history. The info I share here best relates to my experience with Notgrass. However, there are some tips here that you can apply to other history resources.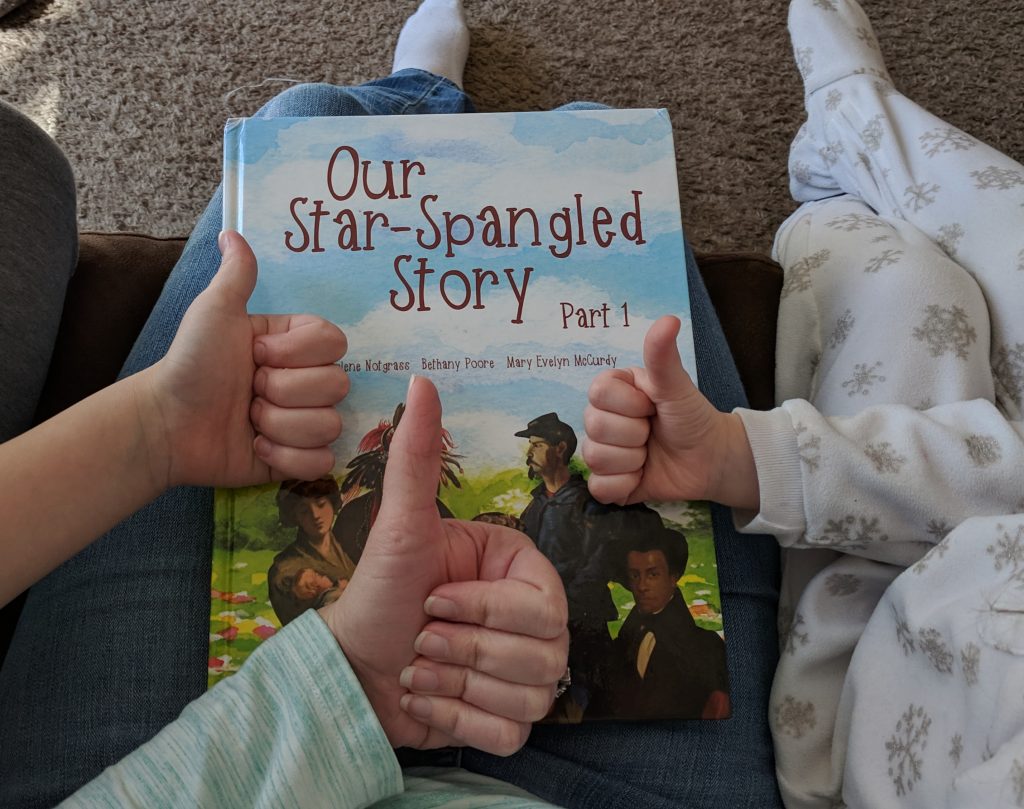 I honestly feel at home with Notgrass History and am very excited to share a recap of our time using Our Star Spangled Story (OSSS) – my enthusiastic suggestion for homeschool history in the elementary years. If you would like to see my various YouTube reviews about Notgrass and OSSS, head here to the playlist.
First, let's start with the basics of OSSS and then I'll share our personal experiences and tips for family learning:

Who is it for? As with all Notgrass History curriculum, OSSS is written with homeschool family in mind. The intended audience is children in grades 1-4. However, it can be adapted to use with kindergartners or even older students.

What products are available? There are two storybooks (I use that word on purpose) that some people would refer to as textbooks, a full-color glossy timeline photobook, a student workbook with various written activities, a book of period rhymes and dances (MP3 audio included) and an answer key. You can see sample lessons and hear audio selections here. In addition, there is an optional literature package with suggested read alouds and a questions/answer key for discussion. You can purchase all these components in a package or individually.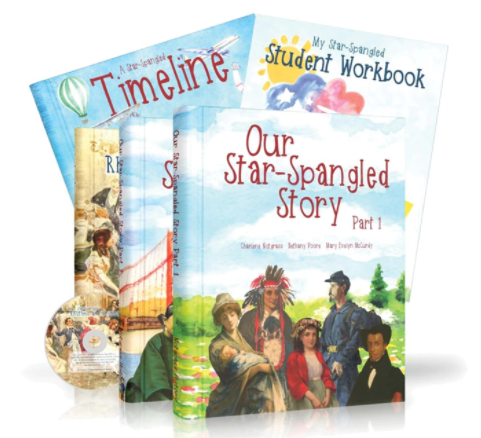 How many lessons are there? There are 90 lessons scheduled over 30 weeks. The publisher suggests completing three lessons per week.
Is it open and go? How much prep is involved? I would definitely consider OSSS "open & go" curriculum. I did not prepare anything ahead of time in order to do a lesson with my kids for the three content lessons each week. When we got to the unit project (every 9 lessons), I did have to gather some basic supplies. However, the prep time was minimal.
Now that we've covered the basics, let's look at how we used OSSS in our home. When we started the course, our kiddos were ages four and eight. My son really needs to have pictures to help him focus during a history reading He was immediately drawn to the bright, brilliant photos in OSSS. The writing style is truly a beautiful narrative that is reminiscent of storytime on Grandma's lap. Words fail to describe how much I loved reading these history stories to my kids. We simply loved everything about it.
To understand how you can use OSSS with multiple ages, let me give you some suggestions that worked very well for us. First, start with the suggested hands-on activity suggested at the end of the lesson. You can find the activities listed in a blue box on the last page of the lesson. These activities range from building with legos, to gathering objects from around the house (think scavenger hunt), to preparing a role play and more! These activities were designed to be a review/application of the story, however, I found that they were great ice-breakers/interest-builders to get my kiddos ready and excited for the history story. I wasn't sure if this method would work throughout the course because those activities are technically intended for the end of the lesson. However, I was delighted that this actually worked incredibly well the whole year! This is a testament to the flexibility and usability of the program.
After completing the lesson activity, have your kiddos join you on the couch and read the lesson. If you remember at the start of this article, I referred to the books as story books, not textbooks. Notgrass History has done something wonderful for the living books fans – putting wonderful historical stories all in one place. Before OSSS, homeschool moms would have to spend loads of time reserving multiple living books to find the same amount of content. This is a huge time and sanity saver, in my opinion. They have given us the best of both worlds – engaging, living stories without the insane library fees! The full-color text is also more interesting for little eyes than the typically black and white illustrated books that make their way on a Charlotte Mason list. At times, I would pause to allow some discussion about the many beautiful pictures. One way I kept my 4 year old engaged was to ask her to find pictures that match certain parts of the story. I knew she may not be able to answer some of the comprehension questions at the end, but these simple engaging moments allowed her to feel included.
When the reading was over, do the map exercises. Don't sweat – these are done orally using a map in the back of the book. My son loved using the map to see where the history story took place. He often tried to figure out how long it would take us to travel to the various locations from our home. He really enjoyed it.
The final part of the lesson is the song/rhyme. Unfortunately, my kids did not care for this part, so we often did not do it. I was surprised by this, but still very thankful for all the other things we did enjoy together. We plan to do OSSS again when my daughter is in 2nd or 3rd grade and hopefully she will be more fond of the songs/rhymes then.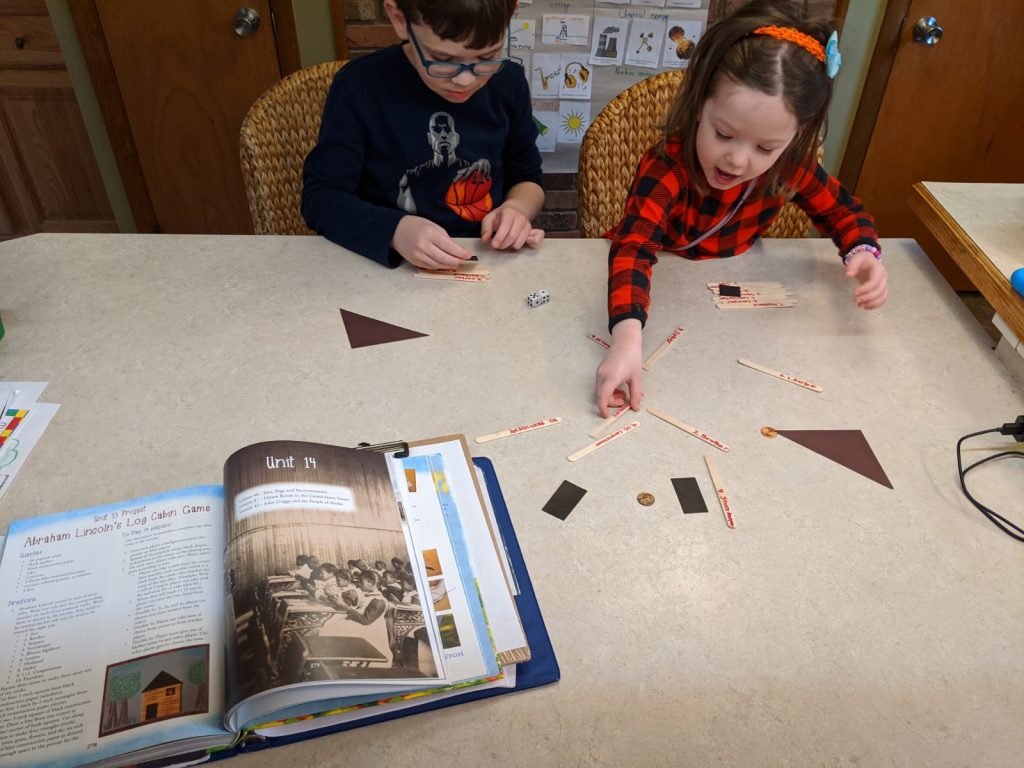 All totaled, the daily lessons took us about 15-20 minutes per day, including activities. (I have a sample live lesson on my YouTube channel here in case you prefer to see it played out. ) The unit projects (done weekly) sometime took a little longer, depending on the nature of the project. We enjoyed things like baking, painting, creating & playing games and more! Now, because I always vow to be real with you, I will say some of the unit projects we skipped because we had too many other things going on that week. However, the simplicity of the projects enabled us to complete a majority of them.
We did not use the optional literature selections because, at the time, my kids still preferred picture books. However, something we definitely would have utilized to find more age-appropriate supplements is Homeschool History. If you have not heard about this website yet, you can catch a quick walk-through here on my YouTube channel or head to the Homeschool History Facebook group. In short, Homeschool History is a website created by Nograss History to be the one-stop shop for all types of history media – videos, games, books and websites – sorted according to age level and topic. It was not yet launched when we were using OSSS, but we have already started using it to create our plans for future Notgrass courses. Personally, I feel that Homeschool History is the sure-fire way to make sure all ages of kids are included in your history lesson time. The Notgrass family has vetted the media contained on the site and that gives me total peace in using it and recommending it to you.

So there you have it – history for all ages! Notgrass History has become like a trusted friend in our home and we look forward to many more delightful years learning history together. I hope this post has given you some helpful tips for family-style learning and I look forward to hearing your comments below!