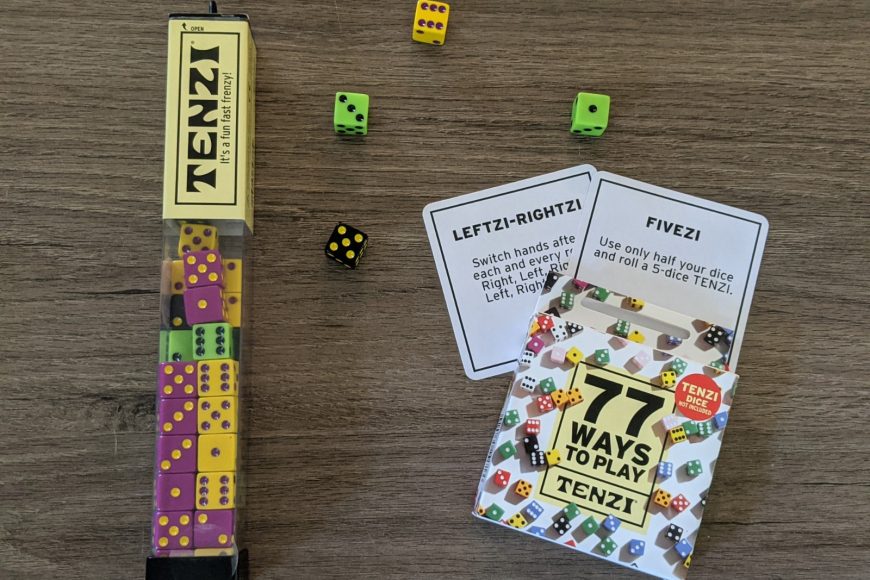 Add in Some Fun with Tenzi || Timberdoodle Review
As a member of the Timberdoodle Blog Team, I was given the opportunity to review the product discussed in this article. I received the product for free in exchange for my honest review. All opinions and ideas expressed are my own. Some links contained in this post are affiliate links that allow Timberdoodle to know that I referred you to their site. There is no extra cost to you should you make a purchase while using those links.
Do you know how many variations of games you can play with just 10 dice? Well, I can tell you there are at least 77. We haven't played them all, but that is certainly our aim over the next school year….and beyond. In case you are a bit skeptical, let me introduce you to Tenzi – a quick and inventive dice game.
Let's start by taking a look at what you get with the game. There are four sets of ten colored dice and a instruction booklet with 8 game variations in the Tenzi game tube. You have the option to separately purchase a card deck containing 77 game variations that you can play with the dice. The dice come in a thin plastic tube and the additional cards are your standard "Monopoly property card" size. There are a variety of challenge cards. Most are timed challenges (first wins), but others are not. There are some picture cards where the players need to make their dice match a given pattern. In addition, we also found some "create your own" cards at the back of the deck.
The aim of the game is to complete the specified challenge first. The most basic Tenzi task is to get all ten dice to show the same number. Yet, there is nothing basic about the task cards in the supplemental deck. You can encounter challenges like Pairzi – roll 5 number pairs. Or perhaps one of my favorites, Farmzi. In that variation, players must make a farm animal noise every time they roll the dice to complete the challenge. There are opportunities to have fun with odds/evens, left & right, addition and getting the wiggles out. The creative input is wonderfully apparent in the delightful game!
The dice set allows for 2-4 players, however, if additional dice sets are purchased you could certainly allow for larger groups. The game goes incredibly fast. No round lasted longer than 60-90 seconds here. For that reason, I think the suggested age range of 7 and up is probably wise. It would be hard for the littles to keep up, generally speaking. However, we did make some small tweaks to allow my almost 5 year old to join the fun with us. We had to allow her to roll first, decide what number dice she needed to get and then the rest of us would start rolling. It worked very well and we had all smiles around the table….or floor, as it were.
Now comes the question – so why should you get this? Is there anything you can use this for besides a fun additional to family game night. I truly think so. Here are my ideas:

1.) Start the day with Tenzi! If your kids are slow to come to homeschool table to begin lessons, lure them with a quick and easy game that readies their mind for focus. As I said before, the games take about 60 second and have no setup. You could easily store the dice and cards just about anywhere to have at the ready.
2.) Give everyone a break to avoid meltdowns and boredom. Since the games can be played in such a short time, pull out the dice and cards when you get the hint that lesson isn't going so well. For us, that would be during math, which Tenzi pairs great with. However, you can also break the boredom in a language arts or history lesson too if things are nearing meltdown.
3.) Use it as a reward for a hard-working kiddo! If there is a particular subject that your child struggles in and they have noticeably improved performance – reward them! Sugary treats aren't always the mom-approved choice, so how about a quick round or two of Tenzi!? Unlike other games with more elaborate setup, taking the time to boost the confidence and spirit of your child with Tenzi won't throw off the rest of your school day. In this instance, I'd say that's about the best use of 60 seconds you will find as a parent.
4.) Spontaneously replace a math lesson with a Tenzi tournament. Whether math is a challenge or a delight for your child, who wouldn't love coming to the table for math and finding out it's game day!? I can see us having several cards set up around our house and moving from station to station in a timed race! How fun! It brings in movement, variety and strengthens those mental math speed muscles.
I am sure I could think of more way to incorporate this creatively simple game, but I just wanted to get your wheels turning. If anyone uses Tenzi to replace paper/rock/scissors to decide who gets the last donut at breakfast, I think that would be awesome. Be sure to tell me about it. I really want to do it but the playing field with my kids isn't quite level for that yet.
While I can list so many great things about Tenzi, there are just a couple not-so-pleasing things I wanted to point out. I do think they should sell the cards and dice together on the Timberdoodle site. The game isn't nearly as amazing without the super hilarious variations in the 77-card pack. Timberdoodle sells them separately, but does have them both included in the second grade curriculum kit.
The only other con for me is that only four players can play at one time. Of course, you could purchase multiple dice packs or save some money and get a bulk bag of white dice. But who wants to be the kid with plain dice when your sister has magenta and green? Larger families are definitely trending up and four player games result in sad faces at family game night. I would have liked to see at least 6 sets of dice in the pack, with 8 sets being optimal. Wouldn't it be fun to have a big group of kids playing this together?! I think so, anyway.
So what are your thoughts? Are you going to try Tenzi? Let me know how it goes in the comments below.