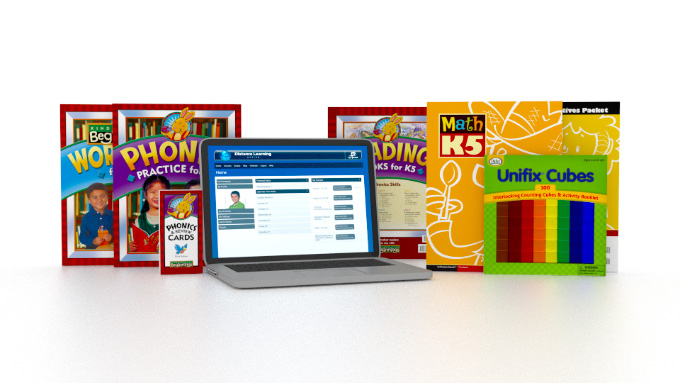 K5 Curriculum Review: Math
As I said in my overview for Kindergarten, we used BJU Press K5 Math with Distance Learning videos. If I had to guess I would say we used about ⅔ of the videos. Additionally, we may have only seen half the content of the ones we did watch. The videos were between 25-30 minutes long each day and included songs, puppets, lots of visuals, "mystery object" segments and more! They are very well made, with a teacher speaking directly to the camera (think Romper Room) from a fully decorated stage set. The lesson flow is as follows:
Review

New material

Worktext page

Real World Application
When you hear that we only used ⅔ of the videos in the course and didn't even watch all of those, you may think we didn't enjoy/appreciate it. Nothing could be further from the truth! We LOVE BJU Distance Learning and what it provides for us. But that's just it – you get SOOO much that some days we did only certain parts and still had a fun, learning-filled day without utilizing all that was provided.
What all comes with it, you ask? Well, because we ordered DLO, we received even MORE worksheets and a complete lesson plan for each day printed out for us! We also received the student worktext and manipulatives set. In addition, with the DLO purchase, you also received a PDF of the teacher's edition in case you'd like to teach some lessons yourself. You also have the option to purchase a hard copy teacher's edition. A dear friend actually gave us all the K5 teacher books! I can say that going forward I would probably always purchase the hard copy, at least for elementary grades. I'll explain why at the end.
There was also a list of additional suggested items included with our DLO packet. I did purchase of few of those items, but for the most part I just made due with what I had around the house. One of the items I purchased was a geoboard. I do suggest getting one of those, but not just for this course. It is helpful going forward.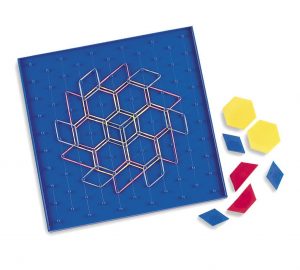 My overall thoughts of this curriculum are positive. It is definitely a solid course with an appropriate amount of work for a 5 year-old student. There are plenty of different teaching strategies available to cover both super active, hands-on learners and "to-the-point", structured worksheet-lovers. I love all that variety because some days my son was all about activity and other days he just wanted to get it done. He loved the DLO instructor and most of the video segments. He did feel like there were too many examples often times. This was a huge reason why we decided to mix it up with me doing some teaching and only watching some of the video. Having said that, I would probably not purchase DLO for K5 again. It was nice to have and SOOO well done. But I just can't see spending the money ($599 for all K5 courses, cannot buy just math) to only watch ½-⅔ of the content. In addition, the pacing of the course was a bit slow for my son. He was ready to move on much faster than they did. We ended up combining lessons to help keep him engaged. This is where having the Teacher's Edition was super helpful. I could parent-teach a couple combined lessons to speed things up just a touch without actually skipping lessons. Then we could hop back into the videos the next day for a lesson with new material.
If you'd like to see a sample of a DLO K5 Math lesson, you can find one here: https://www.youtube.com/watch?v=63Xs_1nqU4s.
If you'd like to see my video review of this resource, you can view it here: https://www.youtube.com/watch?v=7Rs5SN539k4
If you are interested to see how I organized my K5 Math manipulatives, there's a quick video here: https://youtu.be/hR9l-oJr62E