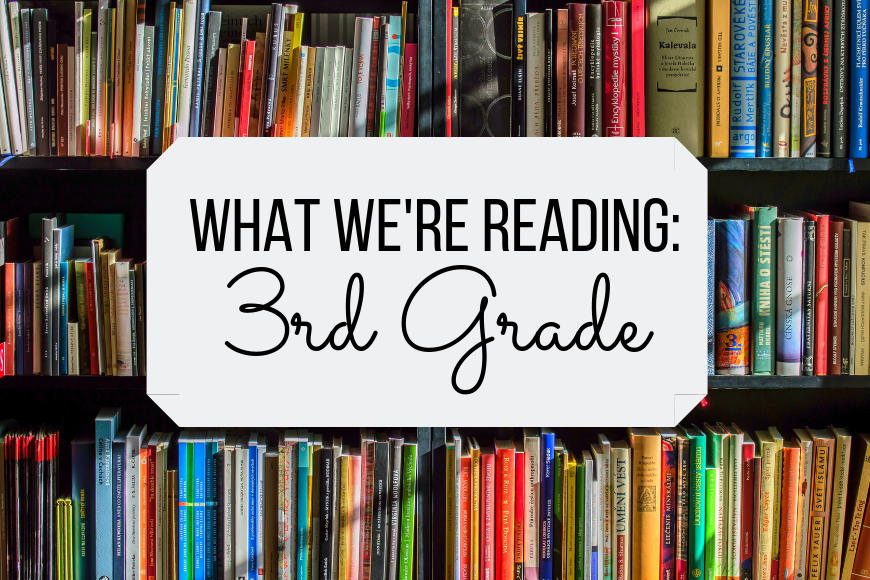 Our Reading Plan for Third Grade
I have finally come up with a list of books to give my son as options to read this fall. Of course, I will allow him to pick some of his own and will give him a few "veto" votes on my picks. There are some here that I am planning to assign to him, barring insurmountable objections (wink, wink). I will indicate those picks with an asterisk. If you're curious as to how I came up with my list, see the end of the post where I name all the publishers' sites/catalogs I consulted. In no particular order, my son will potentially read the following in third grade:
Pulling Together* (with BJU Press Booklinks)
The Sword in the Tree*
The Paintbrush Kid
Third Grade Detectives
The Littles
The Long Way Westward
Tornado* (with Moving Beyond the Page guide)
Wagon Wheels*
Buffalo Bill and the Pony Express*
The Treasure of Pelican Cove* (with BJU Press Booklinks)
Stone Fox
One Small Square: Woods/Backyard*
Mr. Popper's Penguins
McBroom's Wonderful One-Acre Farm
CLP Nature Readers
The Best Christmas Pagent Ever
The Case of the Dognapped Cat* (with BJU Press Booklinks)
Owls in the Family
Encyclopedia Brown Series
There are a few other options in the Memoria Press Grade 3 literature program I am considering, as well as a couple more Grade 3 BJU Booklinks in case we need more options.
As far as books to read aloud, my list is a little more dynamic and complicated. I am also reading to a 4 year old at the same time, so I do plan to pick books that she will enjoy, also. She will sit through any read aloud, but I want her to get the joy and delight of picture books. These books are ones I picked with my son in mind, however, he will more than likely hear other books with his sister. This may be a little ambitious, but this is my read aloud wish list for third grade, in no particular order:

The Memoria Press Read Aloud list (picture books)
The Bears of Hemlock Mountain
The Courage of Sarah Noble
The Cricket in Times Square
The Boxcar Children
Aesop's Fables
Follow My Leader
Ginger Pye
The Year of Miss Agnes
Mrs. Piggle Wiggle
Adventures in the North Woods series (probably in summer between 3rd and 4th grade)

In addition, I plan to get a few read alouds to use during lesson times, Fun Fridays or when I see we are on curriculum burn out. Here are some of those picks:
Punctuation Takes a Vacation
Meet the Orchestra by Ann Hayes
The Lightlings by RC Sproul
A Place for Zero
Multiplying Menace
Multiplying Menace Divides
Eats, Shoots and Leaves
If You Were a Noun/Verb/Adjective/Pronoun (Word Fun series)
Selections from the Notgrass History Literature Package

And that's our plan. Tune in to see what we actually read ;). If you're wondering where I got my choices from, well….that's not a short answer. I basically sit down with all my homeschool catalogs and write down my faves from each. Then, I figure out if there are literature studies, lapbooks, activity guides, etc. for any of the books I've chosen. This year, that step led me to Moving Beyond the Page for the first time. I've known about BJU Booklinks for a while, but didn't think about using them in the way I plan to this fall.
Here are the catalogs I referenced when making my reading lists:
Memoria Press
BJU Press (Booklinks)
Veritas Press
Sonlight
Heart of Dakota
Notgrass History
Timberdoodle
*Some of the above links are affiliate links. There is no additional cost to you to make a purchase through those links, but it does benefit me in a small way for the time I spend preparing reviews, videos, posts and the like.
So how do you make your reading list? Do you go with a set list from one source? Do you make your list ahead of time or just go with the flow?
If you would like to see me show some of the Memoria Press read aloud selections in a quick flip-through, click here to see my video. If you'd like to hear me talk about my reading plan for my son a little more, there's a brief video here.