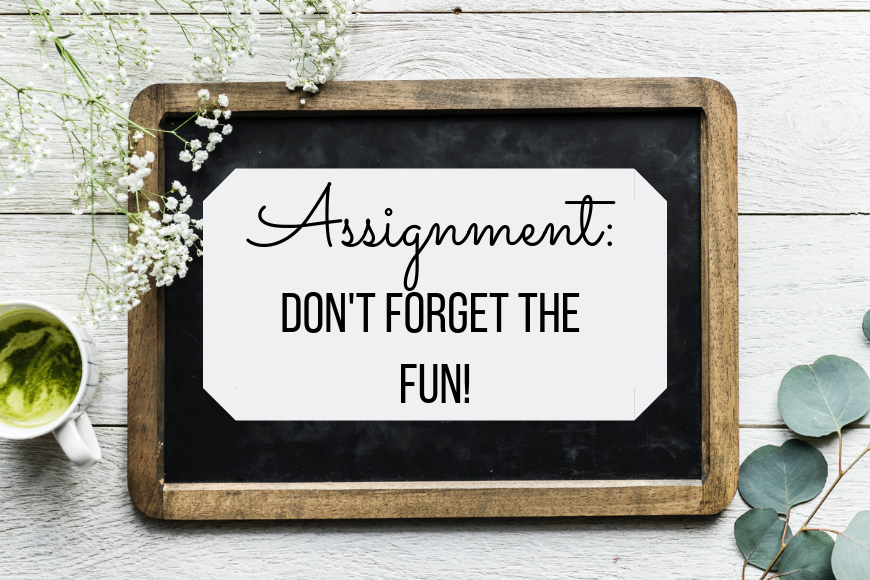 10 Tips for Back to Homeschool Fun!
*If you prefer to watch my YouTube video about this post, go here!*
I've started thinking about our first day and week of homeschool in under two weeks! There are a few tried and true traditions that bring much joy and are super simple to implement. I thought I'd give you my Top 10 list of ideas and ask you for yours! Please stop by the comment section so I can borrow some suggestions from you, too.
Here we go! These tips are great for starting off a new school year or starting back after a long break, like Christmas. Simple as they may be, these things are some of my children's favorite memories when we reminisce about our school days.
Have an orientation day or week.
I plan to do a YouTube video devoted just to this idea. Basically, I get out of all our curriculum and do a reveal for my kids. I show them some of the projects we plan to do and allow them to just explore the books for a bit. Then we walk around our home to see some of the changes I made and see all the new school supplies, posters and displays. I show my son his checklist and we talk about what a typical week will be like. This year, I will be introducing something new – an assignment book!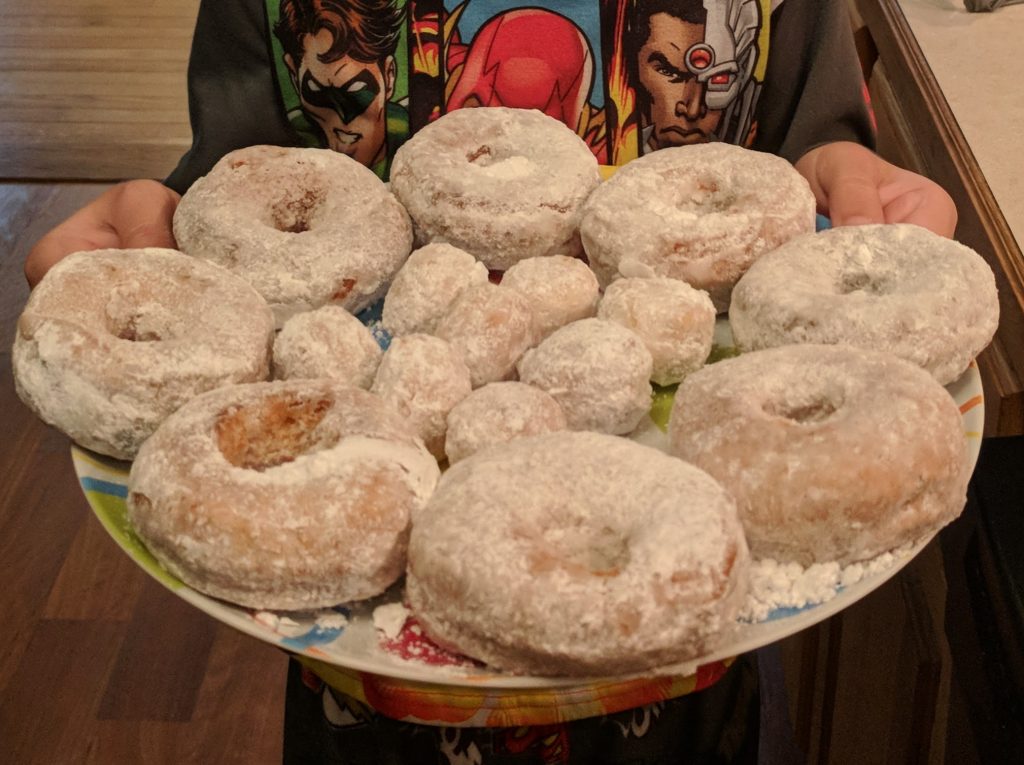 Make an old-family recipe with your kids on the first day of school.
Cooking with my kids is always a hit. I know so many other homeschoolers like to have a special breakfast to make the first day special. I wanted to maximize the memory so we cook breakfast together! I choose to make one of my grandma's or mom's recipes and share my memories of making the goodies with those special ladies. And I can't lie, mama wants to each gramma's donuts as much as she can so this is a good excuse 😉 .
Build in lots of physical activity and games throughout the first week.
I've come up with a few games that call for random activity throughout the day. "Popcorn" as I call it, is a way for me to keep an eye on the boredom/glazing eye effect and surprise the kids with some movement. I tell them at the start of the day that when the hear "Popcorn ______ ", get up and do whatever I call out. For instance, I could say, "Popcorn 10 hops!" or "Popcorn 10 jacks!" The other game, Switch, is the same basic concept. The only difference is that when I randomly yell, "Switch!" the kids gather up their books and pencils and find another place/room to work. Change of scenery coupled with surprise is a hit.
Cut down on the chore list.
With the additional workload of the new school year, it's nice to give the kids a little bit of break where you can. We have a morning checklist that includes some chores that my kids do each day. During the first week of school, I tell them they can skip the chore section of that list. They are thrilled! We gradually work in those chore over the next few weeks of the school year.
Give presents!
This doesn't need much explanation. The anticipation of receiving gifts does alot to build excitement. During our "orientation" I described above, I give my kids a gift for both of them. I let them know that on the first day of school there will be a gift for each of them individually. The together gift I am giving them is this Mobi Max game. I got it the Timberdoodle Exclusive set, so it has the addition/subtraction tiles for my younger child to use it, too!
Make some "Skip It" and "Double It" cards.
I have heard many mamas recommend a slow start to a new year. I have found that we do best just diving in…mostly. We plan to do our full list of subjects on day 1, but that doesn't necessarily mean we do full lessons and assignments that first week. And for this year, I've decided to give my son the option to skip one subject's assignment each day during the first week. I will make 5 "Skip It" cards, one with each of 5 subjects my son may want to skip. For instance, I know not to make a "Skip It – Science" card because it's my son's favorite subject. However, if I don't label a subject on each card he will choose to skip math 5 days in a row if he can. I am also going to make "Double It" cards that he can use to keep on going with a subject he likes. I suspect we will have double science lessons during the whole first week of school 😉 .
Go On-Location!
We often talk about taking school outside to the backyard, to a park or….anywhere! But to make the start-up exciting, I am going to try to go "on-location" a couple times. We have never done "school" at the library, odd at that sounds. So, I thinking that will be one of our stops. We'll probably go to a new (or rarely visited) park, as well. Even the backyard is enough "fun and different" to count! We are blessed with a very park-like backyard that is very inviting.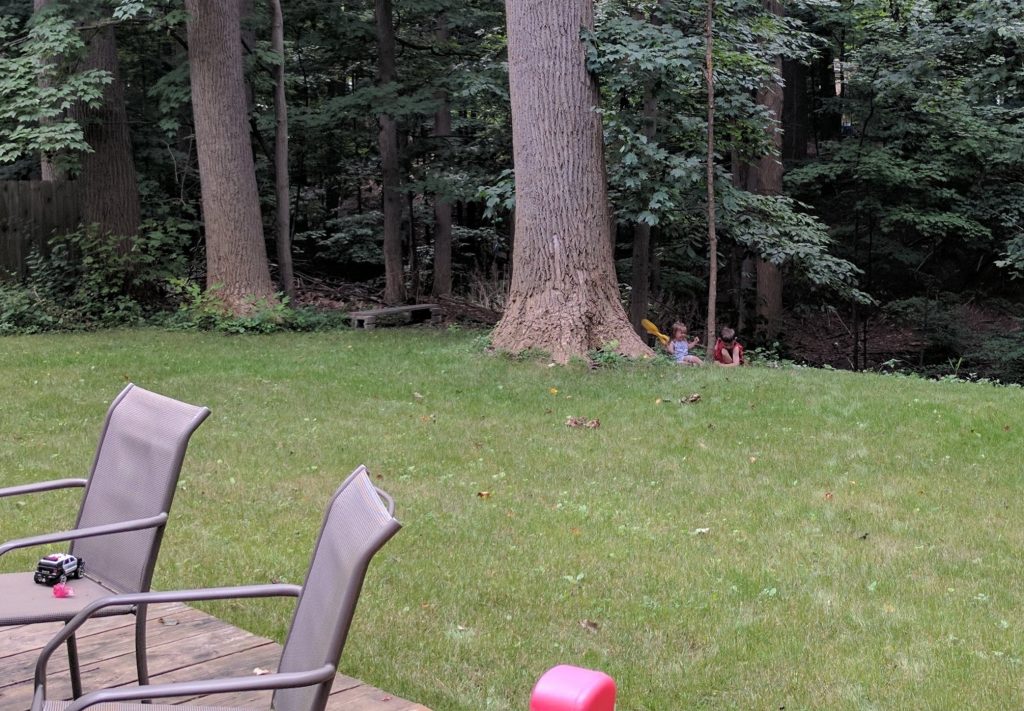 Make a grab-bag schedule.
I started doing this last year when my son was in a rut. I put the names of all his subjects on little papers and put them in his favorite baseball cap. He closed his eyes and pulled out a paper to figure out what he was going to do first. He was so excited to be choosing the order of his schedule for the day and he loved being surprised at every turn. Each time we did this it was a hit, even when he pulled out a subject he didn't really like. This is a great tip to try anytime during the year when you all start to feel the drag of the school year.
BACK to School with BACKwards Day!
I like to play on words. My kids like the clever use of words and it helps the remember the special day. I haven't done this one yet, but I'm planning to do our routine list from bottom to top and, of course, wear our clothes backwards. I was also thinking of eating dessert before lunch. Any other backwards ideas? I'm sure the kiddos will try walking backwards as much as possible.
Make it Spirit Week!
We typically do Spirit Week right after Christmas break….because who wants to get back to lessons after that!? It makes school time not seem so bad. Here are the types of special days we celebrate during Spirit Week:
Crazy Hair Day
Super Hero/Princess Day
Team Spirit Day
Pajama Day
Mismatch Day
And that's my list! I hope this inspired you to be present and enjoy your first week back to homeschool. This is such a precious time and full of daily blessings. Go and find them, Mama!! And be sure to stop by these other mama's blogs to get more back to school help!