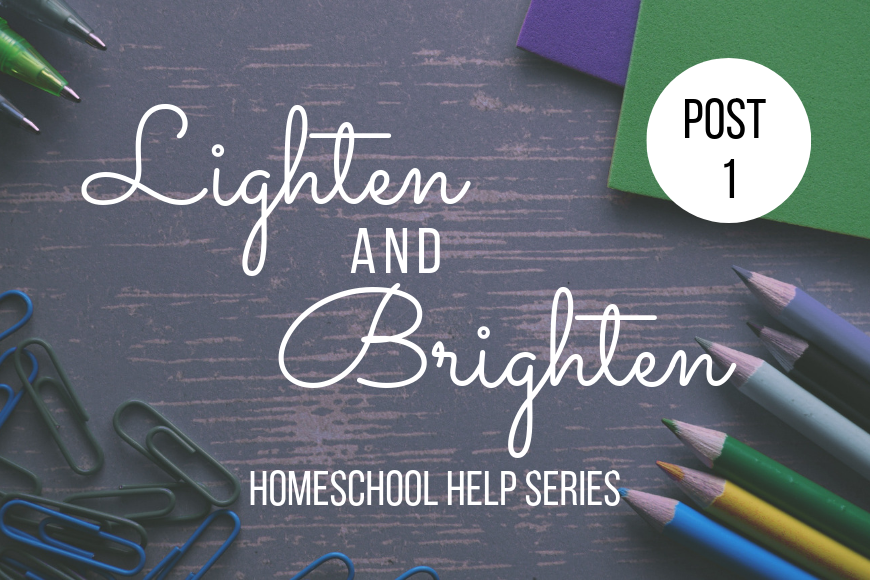 Lighten & Brighten Series #1 – Extreme Dot to Dot by Mindware
This series is dedicated to the mama who may have discovered that she has either planned too much/too little or has not included enough variety/engaging activities in her homeschool lesson plans. Follow along as I show you ways that you can lighten your load without compromising learning while adding in some truly awesome extras!
Now, I hear you. If your load is heavy, why am I suggesting that you ADD something?! Well, I am actually going to offer suggestions for both replacing time-consuming (or otherwise challenging) things and including resources if you are currently left lacking at the end of your homeschool days. Hopefully, you'll find something helpful in this series that will bless you and your family.
If you'd rather watch a video version of
this review, head to YouTube!
Today's featured resource could actually be a replacement or an enrichment. We've added Extreme Dot to Dot: Around the USA as a fun add-in to our US Geography study this year. I'll give you the basic details about the books, then I'll go into more details about how we are using it and what it could do for you in your curriculum plan.
These puzzle books by Mindware cover various history, geography and science topics. Check out all the options at Timberdoodle's website! There are 32 puzzles per book, with anywhere from 400 to 1,400 dots per puzzle! I will say, that makes the dots pretty tiny. You'll see below my little guy has his face right in the book to follow the numbers. They are recommended for grades 3 and up and I concur with that suggestion. My third grader is using this book this year and he seems to express the right mix of challenge, confidence and fun. These are a secular resource, in that some of the solution summaries provide information that does not align with a Biblical worldview. Timberdoodle posts a disclaimer about this on the product page so that parents are aware.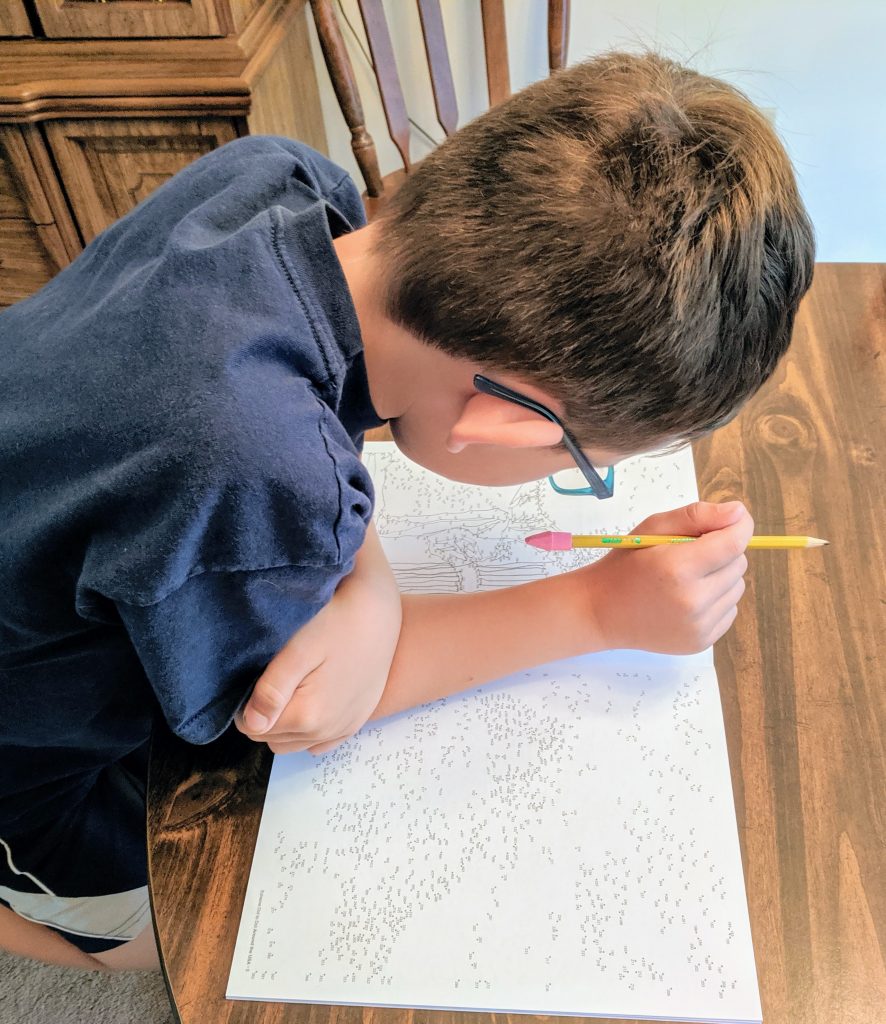 We are using this as a fun extra that is always available to my son. I think we all have those "extra special" resources that we like to set aside and purposefully plan in our homeschool routines and lessons. This could be one of those in your home. You could easily assign these puzzles in lieu of coloring pages for the older kiddos who have bid farewell to the Crayola days. They could work on these to "reveal" what the lesson topic is going to be about that day. How fun! 'Solve the puzzle to discover what we're learning today, buddy!' (I may have to try that one!) For now, I just leave this book out and my son picks it up during recess, evenings or weekends when screen time or outside play isn't an option.
There are solutions in the back of the book which include a very brief summary of the person/event revealed in the puzzle, a picture of the puzzle image and a total number of dots in each puzzle. My son likes to know the number of dots at the start of a puzzle, so I have started to write the number up in the corner of the page for him. He doesn't like to look in the back himself because he doesn't want to spoil the fun and see the completed puzzle. I think I am going to photocopy the solutions and cut them into individual little "cards." This way, he can see the completed image without viewing future puzzles' solutions.

So how could this help lighten the load or accommodate different learning styles? If you have a child who does not like drawing or coloring, this could be a great substitute to use for "artwork" while notebooking. You could remove the binding from the book, insert the pages into a notebook and include journaling pages in between. You could use the history-themed dot to dot books in lieu of traditional timelines. Do the puzzle, copy/cut the solution to make a "timeline card" and put in a book of centuries or across your wall. It would limit the writing of traditional timelines, if that is an issue for your kiddos.
I don't think I have to elaborate on how this could brighten your days. I know many kiddos would love to have this in a Fun Friday basket or even on a plain ol' Tuesday to replace a regular, "boring" worksheet. I mentioned above that I think this would be a great lesson starter to build interest. I simply love these books and would love to hear from you if you have other creative ways to use them.
Find the next post in this series here!
*I received this book for a discount as a member of the Timberdoodle Blog Team in exchange for my honest review. I intended to purchase this product prior to receiving the discount offer from Timberdoodle. All opinions and ideas for use expressed in this article are honest and my own.