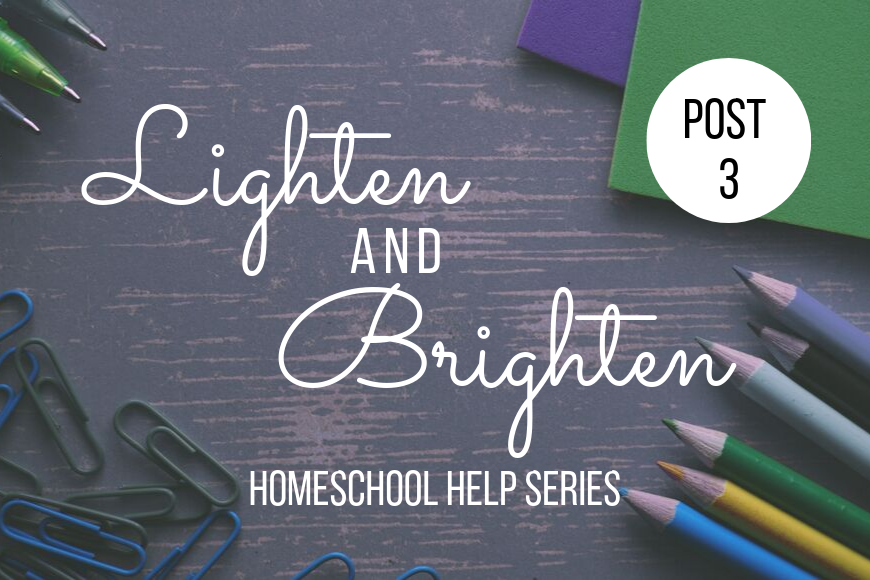 Lighten & Brighten Series #3 – Mobi Max Tiles
This series is dedicated to the mama who may have discovered that she has either planned too much/too little or has not included enough variety/engaging activities in her homeschool lesson plans. Follow along as I show you ways that you can lighten your load without compromising learning while adding in some truly awesome extras!
Now, I hear you. If your load is heavy, why am I suggesting that you ADD something?! Well, I am actually going to offer suggestions for both replacing time-consuming (or otherwise challenging) things and including resources if you are currently left lacking at the end of your homeschool days. Hopefully, you'll find something helpful in this series that will bless you and your family.
If you'd rather watch a video version of
this review, head to YouTube!
In this installment of my homeschool helps series, I am bringing to you the Mobi Max game. Right off the bat, I want to let you know there is a difference between the version sold by Timberdoodle and those sold elsewhere. Definitely keeping reading to find out why you want the Timberdoodle exclusive version if you plan to have multiple ages playing this game at once.
The quickest way I can describe this game is "Scrabble for math." However, there are some fun differences to how it's played. For instance, each player builds his own board of play and races against the other players to see who can use all the tiles in his pile first. There are variations to play and complexities that you can add in as your players' abilities allow.
The object of the game is to build math equations of the four basic functions (addition, subtraction, multiplication and division). Here's why you want the Timberdoodle exclusive version: You get an extra bag of +/- tiles so that your little beginners can continue to play through the end of the game. As it gets closer to the end of play, the pile of sign tiles dwindles down to just multiplication and division because most players are stronger in addition/subtraction facts. As the plus and minus tiles disappear, younger players are unable to create equations. What a brilliant move by Timberdoodle to enable families to play together!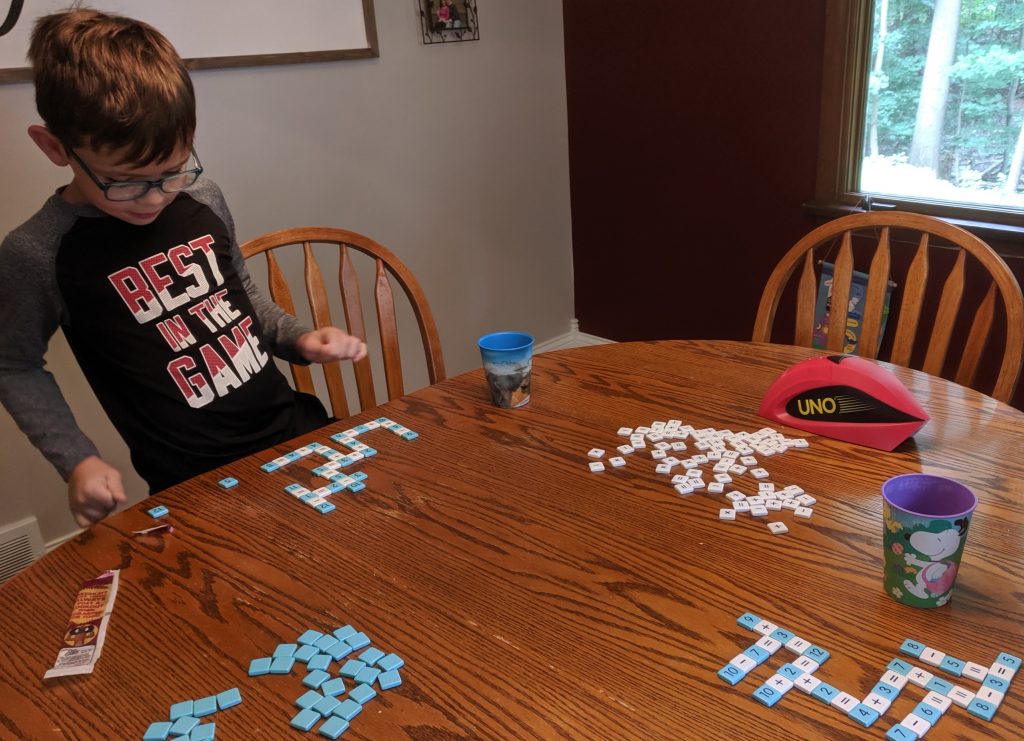 This is the point in the post where I tell you all the ways you can use Mobi Max to help lighten your load and brighten your school days. First of all, this is a fantastic way to practice math facts. Once a week or so, ditch the flashcards and the timed facts worksheet and use this. It is a little more time consuming than those traditional ways to practice facts, so we just reserve it for Fun Fridays. Yet, as I have said before, this little bit of fun to look forward to has really encouraged my kids. If you happened to have kiddos who can all play independently, then you've just lightened your load for a bit while they all play together AND get math practice in!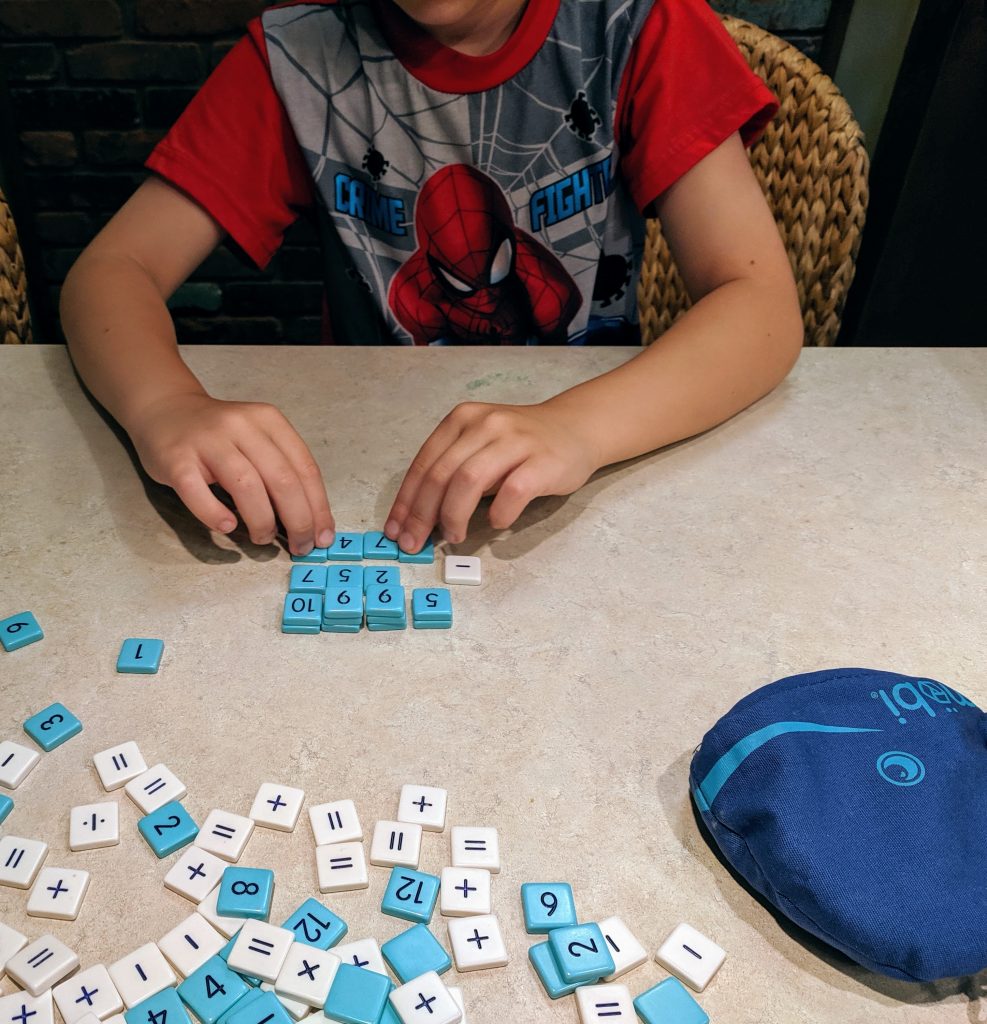 I have found another way to brighten our days using Mobi Max. We alternate weeks of grammar/composition and try to limit writing during those comp weeks. (I have a very reluctant writer!) So one day, instead of having my son write out his math problems, I had him create them with the Mobi Max tiles. Not only did this save writing, give him variety and keep his interest, but it also help solidify conceptually the idea of "borrowing a ten" because there are "10" tiles! I have also used the tiles for various place value games and such so they are definitely proving useful and delightful.
Have you used Mobi Max? What other ways have you come up with to lighten and brighten your homeschool days?
*This post does contain affiliate links. I received this product at a discount in exchange for my honest review. However, this product was on my wish list and I intended to purchase at full price when approached by Timberdoodle. All opinions and ideas are honest and my own.